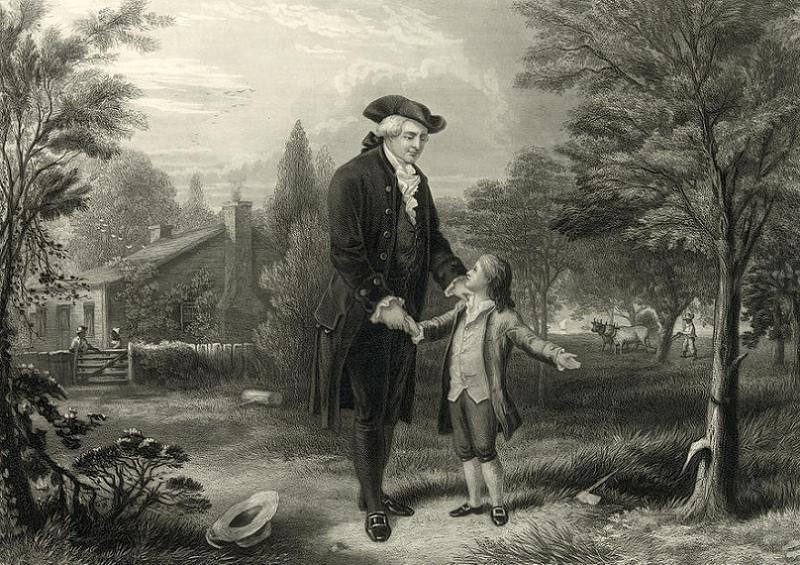 5. Contrary to popular imagination and representation, George Washington was actually a prolific liar.
Another frequent inclusion in American schools is the story of a young George Washington confessing his guilt regarding a damaged cherry tree, claiming that "I cannot tell a lie". Not only an untrue myth, the apocryphal quote contrasts comically with Washington's habitual deceits for personal profit. Starting with his signing of the surrender at Fort Necessity in 1754, the only formal surrender of Washington's military career, he later blamed his translator for his confession of war crimes and feigned ignorance. Washington's admission that he had murdered Joseph Coulon de Jumonville, despite his subsequent denials, served as the motivation behind the French-Indian War.
Similarly, with the onset of war in the Americas between Britain and France, the Governor of Virginia offered common soldiers a bounty of land in exchange for enlistment. Officers were explicitly excluded, with their service expected as part of their civic duty as gentlemen. With the end of the war and the installation of a new governor, Washington led a consortium of officers into deceiving the naive politician that it was, in fact, the officers who were due the land. Consequently, Washington appropriated more than 20,000 acres of land that had been originally set aside for the common soldiers who had fought under his command.