Zizka
This one might be a bit of a sneaky submission as Jan Zizka fought for Bohemia in a time where the Renaissance existed but had a long way to go before Poland got the message. Regardless, Zizka is a commander too talented to leave off this list, especially considering he is one of the few undefeated generals.
Zizka fought as a bandit or mercenary into his 50's before being involved in the Hussite Wars. The Hussite Wars were a pre-protestant Reformation conflict in Bohemia that prompted Catholic crusades. Knowing that Crusaders were coming against the Hussite's collection of militia and farmers, Zizka needed to find a way to defeat larger and more professional armies with untrained troops.
His solution was similar to Gustav's; combined arms tactics, but with a twist. Bands of men were stationed in fortified wagons often arrayed in a defensive formation. Mixes of pikemen, archers, gunners and more filled the wagons and artillery were stationed in protected areas between the wagons.
Facing armies more than five times their size, Zizka banked on a confident enemy attack on the wagons and the odd arrangement of the wagons, usually on favorable terrain, thwarted even the strongest attacks. Men aimed to take out the horses from under the nights and after an exhausting charge failed, the Crusaders retreated and were too exhausted to stop a Hussite counter. Masterful tactics that won several victories against thousands of professional troops using farmers and militia.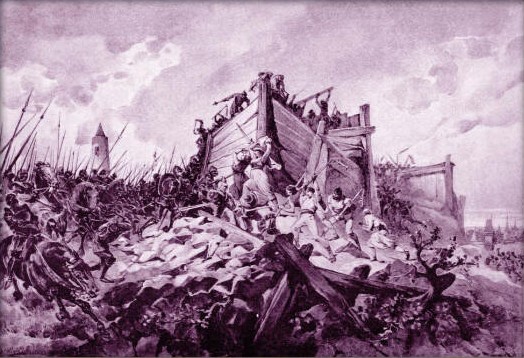 Zizka's greatest achievement was perhaps his defense of Prague. On the strategic Vitkov hill that controlled supply lines outside of Prague, Zizka set up a defense with about 100 men. As many as 80,000 Crusaders came to besiege Prague and 8,000 of them tried to dislodge Zizka and his men. After two days, the Crusaders gave up the siege, having lost 300 knights at Zizka's hill alone. The hill now bears Zizka's name in honor of one of his most important victories.
Zizka had lost the use of an eye before the Hussite wars, and before the war's end he would be wounded in his other eye and rendered blind. Zizka commanded several more battles even after he was blind and won them all. So fiercely did Zizka care for his troops, that when he was dying of plague he wished for his skin to be made into battle drums to inspire his troops after he was gone. His army called themselves the sirotci (Orphans) after his death as Zizka was as a father to them all. A great leader, and an unbeaten general despite facing constantly horrible odds, Zizka is absolutely among the best of the era.