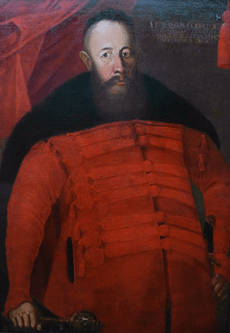 Stanisław Koniecpolski
It's a tough choice to put Koniecpolski below the great Gustav, as Gustav was defeated by Koniecpolski, but we wouldn't say Vercingetorix is on the same level as Caesar even though he got the better of the Roman at Gergovia. In this case, it's a much closer comparison between the two Renaissance generals as Koniecpolski repeatedly fought Gustav to a standstill or even gaining small victories.
Koniecpolski was quick to get on the battlefield, at only 16 years old he saw action at one of the greatest Polish victories against the Russians at the Battle of Klushino and suffered through losing his brother at a later siege during the same campaign. Koniecpolski continued to fight under his commander and mentor Zólkiewski until the Battle of Cecora, where Zólkiewski was killed and Koniecpolski captured.
When he was released, Koniecpolski took higher commands and would spend his career fighting on many fronts against multiple enemies. Poland has always suffered from being an easy geographical target, with many routes for invasions, as shown during WWII. Koniecpolski had the task of fending off multiple invasions while also expanding the borders of Poland to its greatest size.
The Tartars of Crimea were the subjects of Koniecpolski's first great victory. The Poles had been helpless against multiple large raids by the marauding Tartars and Koniecpolski was given a modest force to stop them. Meeting in open battle with 5,000 men against three times as many Tartars, Koniecpolski used his light cavalry cycles of charging and retreating, eventually pushing the mobile Tartar force in range of Koniecpolski's large artillery batteries. Once in range, steady cannon fire broke down the Tartars while reserve heavy cavalry charged home for the victory. It would be the greatest victory against the previously unstoppable Tartar invaders.
When Gustav Adolphus came to power with his new army Koniecpolski had to shift his attention to the northwest. Lacking in men and money, Koniecpolski was tasked with hampering Gustav and defending Poland rather than lashing out into Sweden or taking other aggressive action. With his army, Koniecpolski was able to fight many tactically inconclusive actions against Gustav, refusing to fall into Gustav's clever battlefield traps.
The two leaders even traded near-lethal injuries at a few battles. Koniecpolski had his horse shot from under him and was wounded. The Swedes thought he had died and pressed the attack the next day but were swiftly beaten back. In a later battle, Gustav was shot in the shoulder and this forced a premature end to what would have been a successful Swedish battle. Poland did have to negotiate a peace that was more favorable to Sweden, but this was due more to the better resources of Gustav than any failure on Koniecpolski's part.
Overall, Koniecpolski had a successful and long career. His last great victory was against the same enemy as his first, the Tartars. This time he crushed a force of 20,000 Tartars preparing to invade. The victory was so complete that the King wanted to send Koniecpolski on an invasion against the Ottoman Empire, something that Koniecpolski wisely advised the king against.