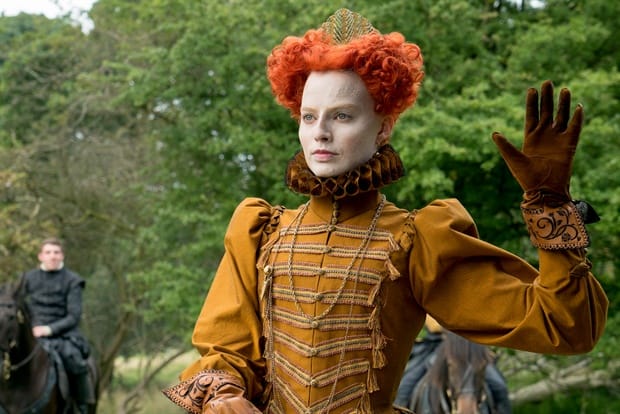 8. Correct: Elizabeth I of England did wear immensely complicated and elaborate wigs, plastering herself with lead-based makeup to obscure the scars of smallpox and effects of time
Earning Mary, Queen of Scots an Academy Award nomination for Best Makeup and Hairstyling, one of the film's most redeeming historical qualities is its physical depiction of the changing public image of Elizabeth I of England. The Virgin Queen, renowned for her beauty and desirability throughout Europe, used this persona in no small part to retain ownership of her crown without the support of a husband or consort, carefully crafting every aspect of her physical appearance to maintain this perception. However, due in part to the ravages of smallpox, as well as the passage of time, Elizabeth was forced to apply ever more intrusive means to create this illusion of perpetual youth.
Her almost fatal encounter with smallpox had not only rendered Elizabeth scarred and pocked, but had also left the Queen of England half bald. To combat this unsightly appearance, combined with the deterioration of her natural reddish coloration with age, for the remainder of her life Elizabeth was forced to rely upon wigs. A sign of prestige in Tudor England, Elizabeth reputedly donned immensely ostentatious hairpieces of bright red designed to both intimidate and catch the eye. Equally, Elizabeth endured hours each day of maids painting her face with a lead-based makeup to disguise her scars, inadvertently orally ingesting a distinctly unhealthy quantity of the toxic substance.