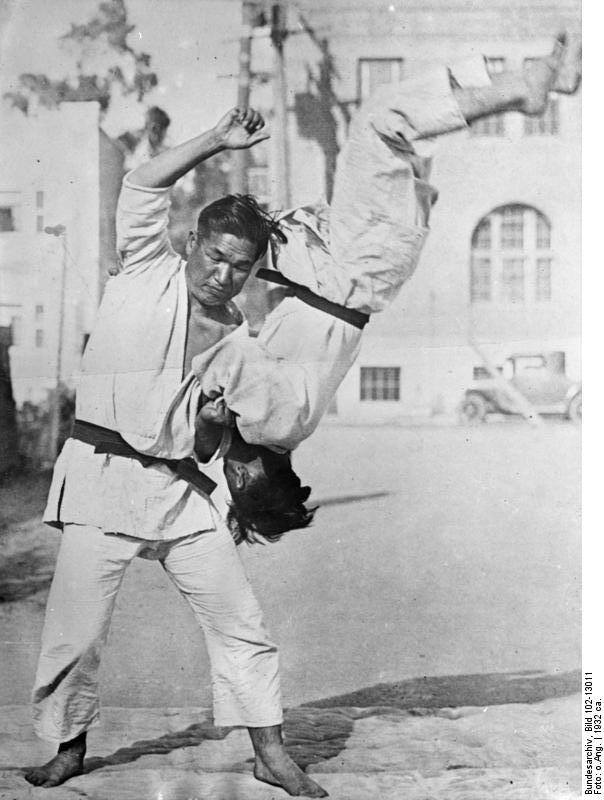 5 – Jiu-jitsu (14th century)
"The mountain-sea spirit that it is bad to repeat the same thing several times several times when fighting the enemy. There may be no help but to do something twice, but do not try it a third time. If you once make an attack and fail, there is little chance of success if you use the same approach again. If you attempt a technique which you have previously tried unsuccessfully and fail yet again, then you must change your attacking method." Miyamoto Musashi, Japanese martial artist and philosopher.
Before discussing any Japanese martial art, it is vital to understand the martial history of Japan and the profound effect of Japanese culture that martial arts have had. Few countries can be said to place their martial arts so centrally to the development of their national identity as Japan and the array of fighting styles that have been produced by the Japanese is astounding. From grappling arts like aikido, jiu-jitsu and judo to striking styles such as karate and kempo, weapon-based methods such as kendo, ninjitsu and kyudo and, of course, the national sport of sumo wrestling. As we will spend the next few sections in Japan, it is worth discussing the origins of Japanese martial culture.
To understand them all, we must go back to mediaeval Japan and attempt to understand the culture that produced them. The way in which society was organised dictated that the use of weapons was limited to just one section of society, the famed samurai class, whose lifestyle was entirely orientated around combat. With such a class, a system of honour developed that still pervades many Japanese martial arts to this day, while their dedication to training methods also saw a huge variety of fighting styles, as well as a very high level of technical expertise. Furthermore, Japan's geographic position as an island often insulated the country from foreign interference and produced a more in-depth, studied approach to martial arts, as they were rarely invaded or faced with outside threat.
The first major style to emerge after Japan's Sakoku period – in which all foreign contact was cut off between 1633 and 1853 – was jiu-jitsu. Once, jiu-jitsu had incorporated many weapons and anticipated adversaries wearing armour, but by the mid-1800s, it was predominantly based around an assailant in street clothes, without weaponry. It prioritised locks and chokes, attained via throws, rather than strikes, although they did still play a role, as did small weapons. There were an estimated 2000 jiu-jitsu schools in Japan in the late 19th Century, all with varying teaching methods, which eventually merged into what we know today as jiu-jitsu.
The concept behind the style emphasises using the weight and anger of an opponent against them, with the idea that a smarter practitioner would prevail over a clumsy one. There is a theory that this emerged because, after the opening up of Japan from 200 years of isolation, there had been influx of foreigners into the country, the vast majority of whom were larger than the genetically small-statured Japanese. Thus, a fighting style in which weight can be an active disadvantage was one that would be preferable.
As a non-lethal martial art, especially one based around restraining an opponent rather than wounding them via strikes, jiu-jitsu has long been favoured by law enforcement and indeed, is taught to most police around the world in some form. The breadth of jiu-jitsu styles is still vast – two of the world's most popular martial arts, judo and Brazilian jiu-jitsu, are direct offshoots that have outgrown the original – and the variety of techniques is almost endless. It represents the fundamental starting point of most Japanese fighting style. Most, of course, because there is one that developed almost totally independently of jiu-jitsu: karate.