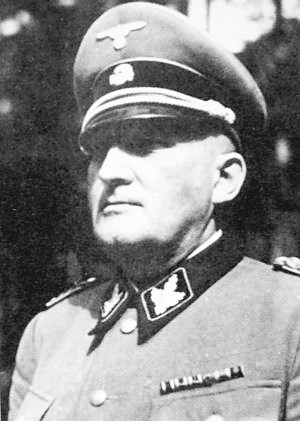 3. Richard Glücks served as Concentration Camps Inspector and the man who recommended the creation of Auschwitz extermination camp
Richard Glücks (b. 1889) was an SS-Gruppenführer and Generalleutnant of the Waffen-SS who was one of the most prominent Nazi officials responsible for the conception and implementation of the "Final Solution". Living in England prior to the outbreak of World War One, Glücks returned to Germany in disguise aboard a Norwegian ship in January 1915. He would later serve as an artillery commander during the battles of Verdun and the Somme, being awarded the Iron Cross. Joining the Nazi Party in 1930, and the SS two years later, Glücks quickly rose to the position of Chief-of-Staff to then-Concentration Camps Inspector Theodore Eicke in 1936, a position he would inherit in 1939.
Despite being described as lacking in charisma Glücks possessed an "abundance of ideological commitment", commanding inmates of concentration camps be required to work continuously, and in February 1940 suggested Auschwitz as a suitable location for a new camp to house up to 130,000 prisoners. Glücks also supported the use of camp inmates for medical experimentation, receiving permission from Himmler in February 1942 to do so. As historians Leni Yahill and Martin Broszat detailed, Glücks was "responsible for the entire network of concentration camps" and the majority of important policy decisions concerning the Final Solution were "decided directly between the Inspector of Concentration Camps and the Reichsführer-SS".
Glücks also undertook significant efforts to conceal the extent of his activities, complaining during a visit to Auschwitz in 1943 about the publicly visible nature of the crematorium and requiring Commandant Höss to plant a row of trees to mask the view. Similarly, Glücks left standing instructions to all Commandants that during visits from senior officials of the Reich to avoid showing the crematoriums and if any questions arose concerning visible chimney smoke to reply it was the product of corpses being burnt as a result of a disease epidemic.
By January 1945, Glücks was responsible for managing the fifteen largest concentration camps and more than five hundred satellite camps. With the formal surrender of Germany Glücks committed suicide on May 10 1945 at the Mürwik naval base in Flensburg-Mürwi, swallowing a capsule of potassium cyanide rather than face the advancing Red Army.