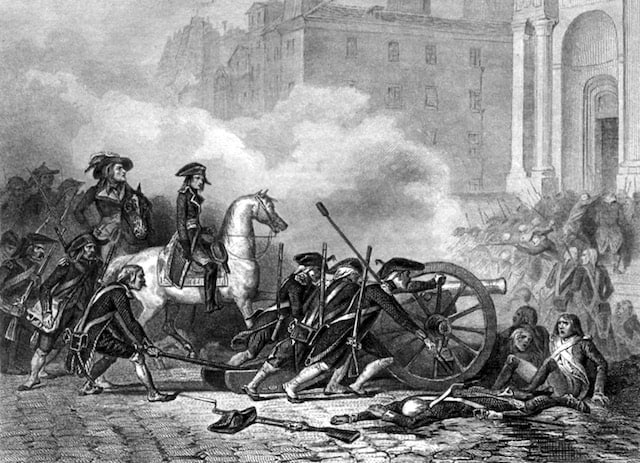 Defender of the Revolution
The second most defining moment of Napoleon's career was a battle known as 13 Vendémiaire (the name the revolutionary calendar gave to 5 October 1795). The Convention had tasked him with crushing a revolt among a Royalist group called the Sections, acquiescing to his demands to be allowed to use "whatever means necessary". In command of a small artillery regiment, he spent three hours from 6 a.m. – 9 a.m. setting up his canons in defense of government headquarters at the Tuileries Palace, lining up his infantry behind and assigning the his cavalry to what is today's Place de la Concorde. Instead of round shot, he had set upon using grapeshot—a particularly nasty projectile consisting of small metal balls packed tightly into a canvas sack.
His forces were outnumbered by around six to one, but he held firm as the mob marched towards him. As soon as he heard the first musket shot being fired, however, he began unleashing barrage after barrage of grapeshot into the crowd. His "whiff of grapeshot" tore through them, and maiming volleys of musket fire from the patriot battalions caused the royalists to waver. At this moment he directed a counterattack of Chasseurs—led by one of Napoleon's up-and-coming favorites Joachim Murat—who cut them down and put them to flight. Three hundred civilian rebels lay dead in Paris's streets, while Napoleon had lost around half a dozen men. Napoleon himself had only narrowly escaped danger, however, at one point having his horse shot from under him.
The brutality of Napoleon's response has to be explained in the context of his prior experience. He had been in Paris during the September massacres of 1792 and during this time he had seen half of Paris's prisoner population—some 1,200-1,400 people—summarily executed by a rabid, unrestrained mob. The "Times of London", in fact, had described the streets of Paris as being "strewn with the carcasses of the mangled victims". Napoleon understood the destructive potential of the mob; food riots scared him more than battles in fact. And he had no compunction in using whatever means necessary to contain it.
In recognition of his exemplary service Napoleon received a promotion. But his decision to use Grapeshot on civilians—a first in France's history—was broadly condemned among his critics. General Jean Sarrazin, upon whom Napoleon had passed the death sentence, described how Napoleon had "set [his soldiers] the example of inhumanity". But the Directory showed gratitude to the man who had saved the revolution and, quite possibly, prevented civil war. And, again, they would show their gratitude by offering him a promotion.